PeopleMatter is excited to announce a new, exclusive integration with TalentTrack, an AI programmatic bidding solution! PeopleMatter customers can now optimize their ad targeting during high-traffic time frames, increasing applications by 30% while lowering the overall cost per application.
Please note the changes to your Indeed experience are now live. 
      1. What changes are happening on June 29th? 
Starting June 29th, all postings sent to Indeed will be routed through TalentTrack and all applications that come from Indeed, via TalentTrack, will leverage Indeed 1-Click Apply. As a result, all Indeed applications will come into PeopleMatter as a Quick Apply application.
      2. How will applications look different on June 29th? 
Applications coming from Indeed will be sent via Indeed's 1-Click Apply and, therefore, will not include all of the questions in your standard application.  Applications will include Name, Phone Number, Email Address, and Address when provided by the applicant. Additionally, we will automatically include all General Question Types with True/False formatting, Multi Choice formatting, and Qualification question types. You can easily identify applicants who have applied via 1-Click Apply as they will have a Quick Apply tag in the Applicant List (beta).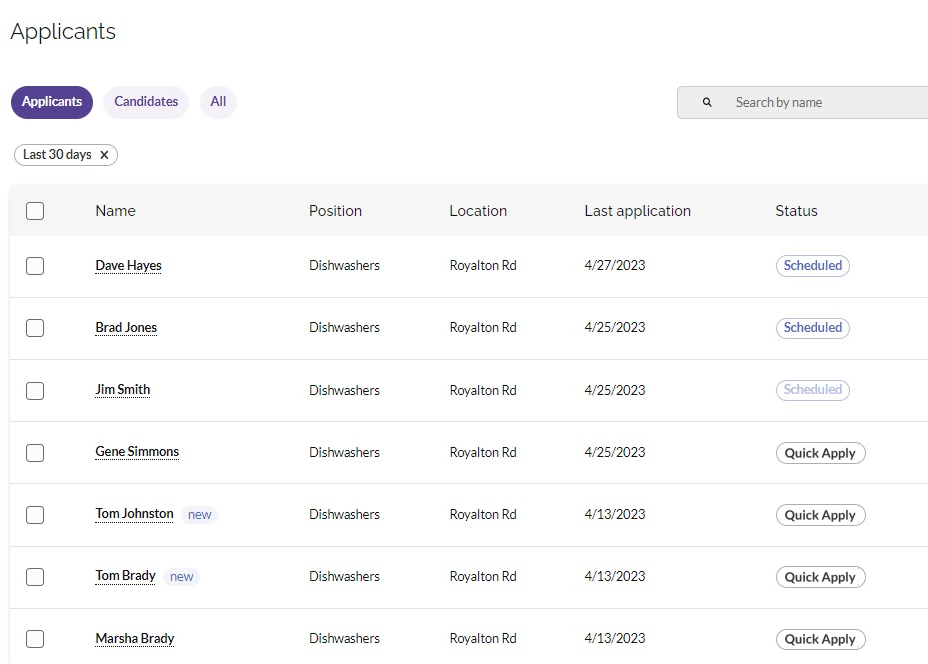 3. Do I need to proactively do anything for June 29th? 
There will be no disruption in your Indeed application process. 
However, we do recommend reviewing your application questions where you will find two new settings.  Your custom questions with True/False and Multiple-Choice formatting and your Qualification Questions now have a checkbox called "Use in Quick Apply." This box is selected by default, so they remain included as part of the Indeed application. The Qualification Question will also have a secondary checkbox, "Quick Apply Knockout Question," which will not be selected by default. You will need to select the knockout questions you would like to include in your Indeed application. 
You should also verify that you want to require a complete application to hire an applicant (consider any WOTC screening or other agreements you may want acknowledged in an application).  This can be done under Company General Settings. On June 29th we will default all companies to require a full application to hire but you have the option to allow managers to hire from Quick Apply if you feel you have all the information you need to hire. 
Note that if you require a full application to hire, you will need to have the full application completed before you can change an applicant to a candidate.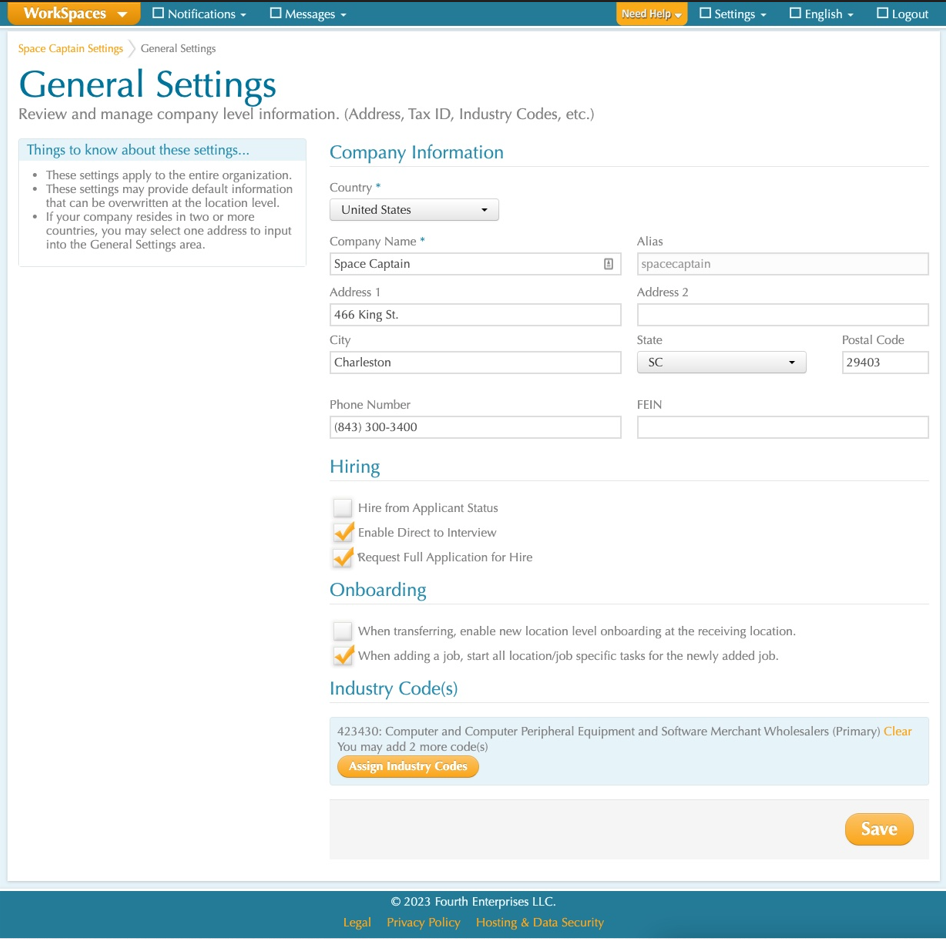 4. Why were the default questions selected for Quick Apply and should I leave them on? 
By default, you will only get contact information (name, phone number, email, and address) for applicants from Indeed 1-Click Apply. To ensure managers have substantial information to evaluate, we have automatically added some questions to the Indeed application. You can go into your settings at any time to remove some or all of these questions from inclusion; however, we encourage you to leave some questions on to help frontline hiring managers with their initial screening process. You can also add new questions specifically for Quick Apply. 
      5. Can I continue to have full applications completed via Indeed?
No, to minimize drop off and increase app flow, Indeed is pushing ATS' to 1-Click Apply. Starting June 29th, all applications sent to Indeed will be sent leveraging 1-Click Apply. However, we understand the importance of a full application. After applicants complete the 1-Click Apply process, they'll receive an email requesting they complete your standard application. Managers will also be able to send this same request manually. And finally, PeopleMatter will have a new setting prohibiting hiring an employee until the full application is completed. 
      6. 1-Click Apply, Easy Apply, Quick Apply…what's the difference?
These are all names different job boards use to describe a fast application process where users can register and apply. Indeed refers to it as 1-Click or Indeed Apply whereas Snagajob refers to it as Easy Apply. Because applications will come in from multiple job boards, via TalentTrack, we decided on the name of "Quick Apply" to represent an application in PeopleMatter that was sent via one of these methods and did not go through the standard, complete application. 
PeopleMatter & TalentTrack Partnership
      1. What is TalentTrack?
TalentTrack is a recruitment marketing tool specializing in advertising job postings, maximizing application flow, and optimizing recruitment spend. Using conversion data generated by tracking the source to hire of every candidate, TalentTrack's AI programmatic model generates a higher volume of better-quality candidates. By optimizing advertisements for the most cost-effective bid times, TalentTrack ensures budgets are focused on attracting and quickly hiring quality applicants.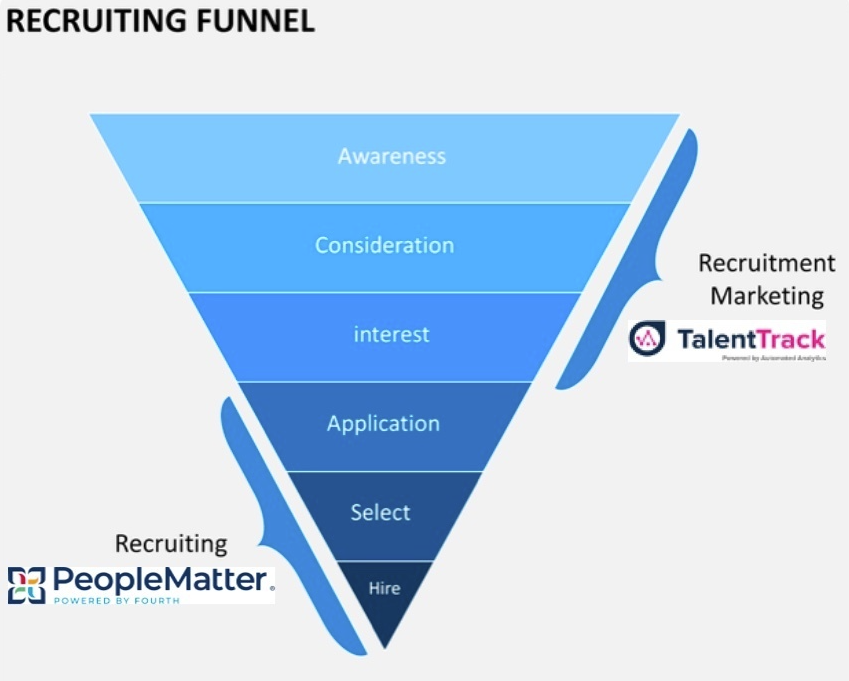 Through PeopleMatter's exclusive partnership with TalentTrack, we now offer:
AI-powered Programmatic Bidding and Media Spend Optimization: Targeted ad buying at the most optimal time and place to generate applications, driving cost-per-application down. 
One-click Apply: Enabling integrations with major job boards to increase likelihood of application conversion, reducing applicant friction.  
Multi-channel Job Ad Distribution: Automatically distribute job ads across digital job boards, as well as social media, to increase to audience reach 
Source-To-Hire Tracking: Accurate visibility of source-to-hire and drop-offs. This data also informs your unique programmatic bidding model to further optimize spending. 
Organic and Sponsored Ad Ranking Optimization: extracting the most out of organic job ads by auto-refreshing job feeds and balancing with sponsored to keep cost-per-application down
      2. What is included in my current PeopleMatter/Fourth subscription? 
As a part of our exclusive partnership, the below Indeed features are now available to all PeopleMatter customers at no additional cost and require no setup:
Send postings to Indeed organically 
Indeed 1-click apply with adding screening questions
Adds/Removals/Updates of job postings sent every 8 hours, the fastest updating allowed by Indeed!
21-day automatic refresh on Indeed— no manual intervention required
Applications from Indeed 1-click flow directly into PeopleMatter
Send postings to Snagajob organically 
By creating a free TalentTrack account, you will also have access to the following features at no additional cost: 
Sponsoring Indeed postings for no additional charge
Leveraging real-time ROI source reporting
AI-powered programmatic bidding to reduce cost and increase app flow
And for a nominal fee, with a TalentTrack account you can also: 
Push postings to ZipRecruiter, Snagajob, LinkedIn, Google, Bing and social media
      3. Does Fourth charge for leveraging TalentTrack? 
No, Fourth does not charge for the TalentTrack integration. It's completely free to create a TalentTrack account, take advantage of these new offerings, and have your applicants flow seamlessly back into PeopleMatter. 
      4. How are jobs sent to TalentTrack from PeopleMatter? 
Under the Jobs and Locations/Units/Stores page, the "Send to Indeed" checkboxes have been replaced with "Send to TalentTrack". When selected, postings will be sent to Indeed via TalentTrack with 1-Click Apply enabled. All applications from these postings will seamlessly flow into PeopleMatter with a Quick Apply label. Note that your settings for "Send to Indeed" will remain intact when we change the label over to Talent Track.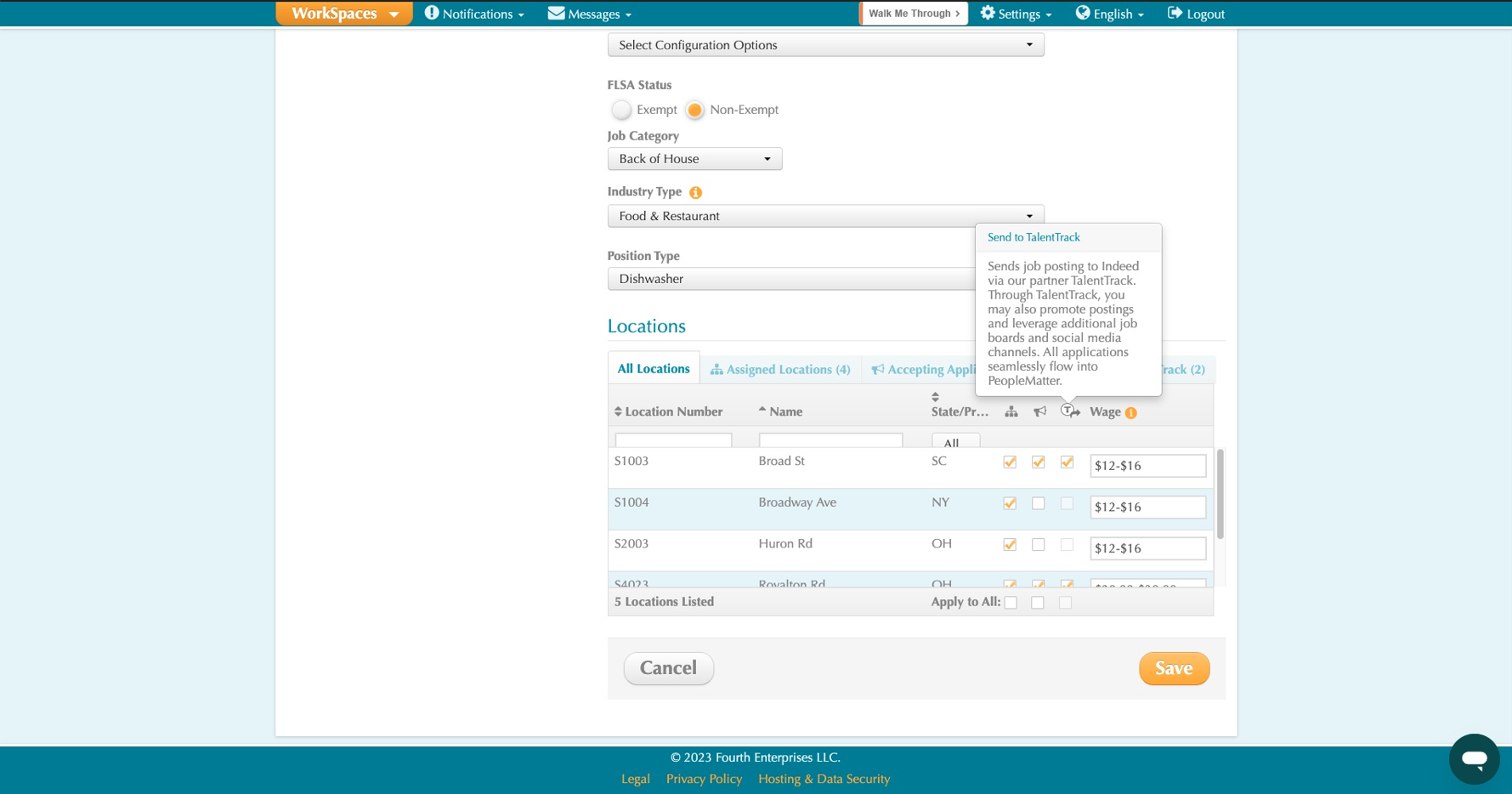 Sponsored Job Postings 
      1. Does it cost anything to sponsor postings on Indeed through TalentTrack?
No, neither PeopleMatter nor TalentTrack charge for or take a percentage of your budget to manage the spend. It's a free service. To begin utilizing it (and have only one place to monitor your sponsored postings!), you do need to create a free TalentTrack account and redirect any current spending through TalentTrack.  
      2. Do I have to have a TalentTrack account to sponsor postings on Indeed?
Yes, you will need to access your free TalentTrack account to take advantage of sponsored job postings. There is no fee for creating an account, for transferring your ad spend to TalentTrack, or to use TalentTrack for sponsored job postings. 
      3. What are the advantages of sponsoring via TalentTrack versus directly on Indeed?
There are 4 main reasons to manage your ad budget within TalentTrack:
Save Time: Sponsoring on Indeed means setting up postings on Indeed and having to manage applicants in two places: Indeed (applicants from sponsored postings) and PeopleMatter (applicants from all other postings). But because TalentTrack is integrated with PeopleMatter, it becomes your one-stop-shop for monitoring organic and sponsored postings with applications flowing seamlessly into PeopleMatter.
Robust Source Tracking & ROI Insight: With TalentTrack you get accurate visibility of source to hire and drop-off reporting for all applications, allowing you to track ROI across various marketplaces in real-time.
Save Money – Where Indeed applies your budget evenly across a 24-hour period, TalentTrack leverages AI to optimize your spend.  Over time, it learns the times your postings get the most and least applications and on which marketplace and applies your budget accordingly. 
Easier Experience – TalentTrack's dashboard is more user-friendly than Indeed's, with beta participants all preferring the TalentTrack dashboard.  
      4. Can TalentTrack push jobs to additional job boards? 
Yes! TalentTrack gives you the ability to manage all your recruiting campaigns in one place providing a full, in-depth view of your campaign spend and ROI. In addition to Indeed, TalentTrack can push your postings to ZipRecruiter, Snagajob, LinkedIn, Google, Bing, and social media channels like Facebook & Instagram. 
      5. Is there a charge for pushing to additional job boards and/or sponsoring on other job boards? 
Yes, TalentTrack charges a small subscription fee to push your job posts to marketplaces and social media sites outside of Indeed. However, clients find that the money saved with TalentTrack's optimization more than pays for the subscription fee. 
      6. Do I need a TalentTrack account to send my postings organically to Indeed or to leverage Indeed 1-click apply?
No. The partnership between Fourth and TalentTrack automatically includes the organic postings feed and 1-Click Apply; no setup or work is required. If you want to customize your Indeed 1-Click experience with additional screening questions, you can do so in PeopleMatter by taking advantage of the new Quick Apply functionality. Learn more below.  
Quick Apply
      1. What is Quick Apply?
Quick Apply is a new feature in PeopleMatter that allows you to reduce drop-offs by only capturing the minimum information necessary. Applications that come in via Indeed 1-Click, or any other job boards offering a quick application experience, will be marked as a Quick Apply job application.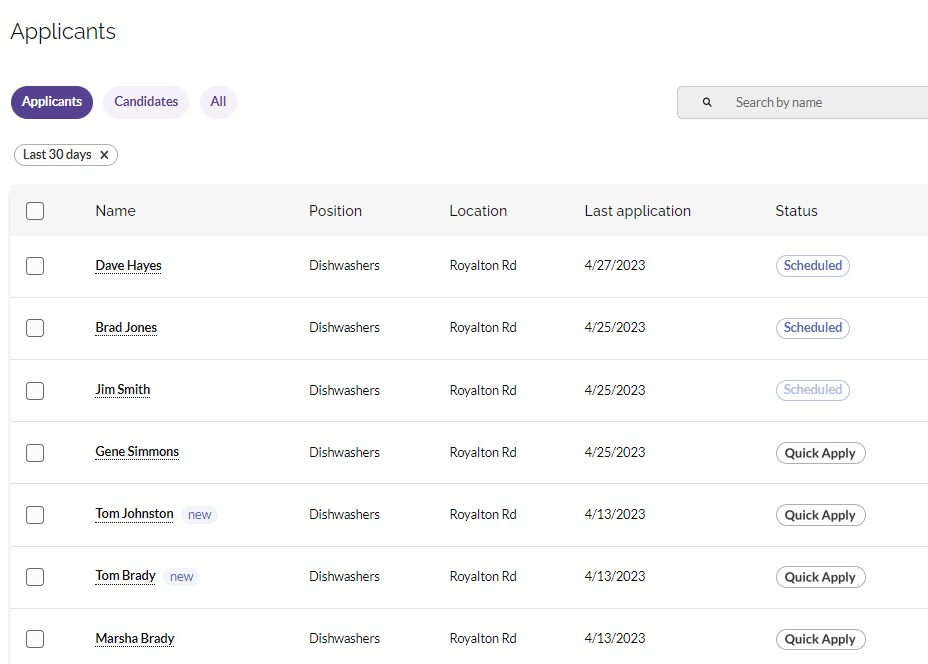 2. When using Quick Apply, can I still require applicants to complete my full application after the fact?
Yes, when a Quick Apply application is completed PeopleMatter automatically emails the applicant a link to the full application, requesting completion. Managers can also send a Request for Full Application to any applicants via the Manager Dashboard (beta). 
      3. How does Direct-to-Interview work with Quick Apply?
Upon initial release, direct-to-Interview will continue to live in the full application. However, we are already building the ability to have candidates schedule interviews as a part of the Quick Apply process. This flow allows the applicant to take advantage of 1-click and schedule an interview quickly before completing the full application, preventing unwanted applicant drop-offs. This functionality will be released in early Q3. 
      4. What are Quick Apply questions?
By default, applications only include Name, Phone Number, Email Address, and Address when provided by the applicant. Quick Apply questions allow you to add some relevant questions for managers to screen applicants for the position. We strongly encourage you to limit it to 3-5 questions per posting to ensure you don't lose the benefit of Quick Apply.   
      5. What are Quick Apply Knockout questions?
Quick Apply Knockout questions prevent applications from coming in for applicants who are ineligible to hire. For example, if an employee must be 16 to work at your organization you can set up a Knockout question to prevent managers from receiving applications from anyone under 16.   

      6. Where do I update/set up Quick Apply and Quick Apply Knockout questions?
Questions are managed under Settings> Application Questions. Here you can add, modify and remove questions for your Quick Apply applications.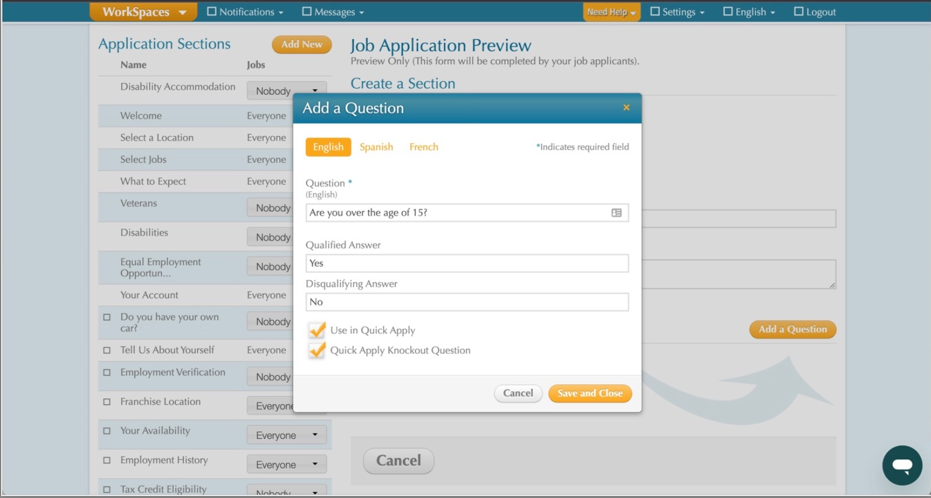 7. Will any questions default as Quick Apply questions for the June 29th launch?  
Your custom questions with True/False and Multiple-Choice formatting and your Qualification Questions will default as a part of Quick Apply applications. We strongly encourage you to review these selections and make any modifications. 
TalentTrack Account Creation
      1. How do I create a Talent Track account? 
Starting June 21, we will proactively ask once a week for four weeks if you would like to create an account with Talent Track. You also can create an account by going to Settings>Job Boards>TalentTrack and selecting the Activate TalentTrack Account checkbox.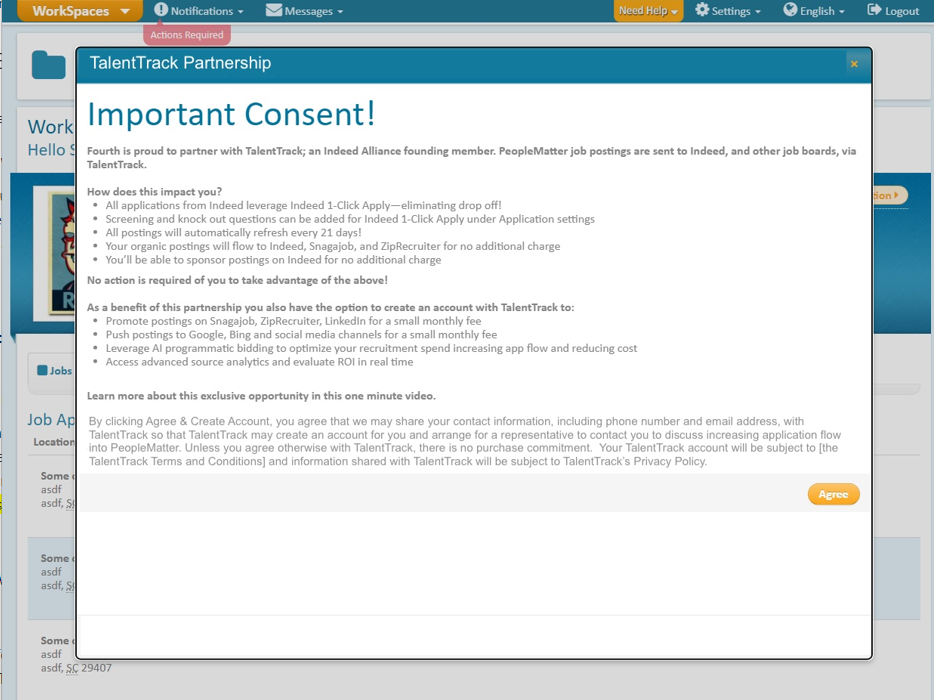 2. What happens when a TalentTrack account is created?  
After following the steps above, PeopleMatter sends your company and contact information to TalentTrack who then automatically creates your account and sends you an email to create your login. Once you log in to their platform, you will have the ability to take a self-guided tour to show you how to use the platform properly. 
      3. Is there any commitment when I create a TalentTrack account?  
No. Signing up for a TalentTrack account does not lock you in to any commitments. You are welcome to create an account, check out the product, and decide if you would like to redirect your Indeed spend through TalentTrack or post to other job boards, social media channels, or search engines. 
      4. I am not getting enough applications, who should I call? 
TalentTrack specializes in increasing applicant flow—whether you need overall app flow increase or help with specific jobs or locations, TalentTrack guarantees an increase in application volume.  Contact support@automatedanalytics.us.