Overview
In Scheduling, users are able to confirm employees' hours worked via a time and attendance integration. This is part of the core Activity-Based Scheduling functionality. Colour coded T&A statuses indicate if users have outstanding T&A actions to complete.
Time & Attendance Functionality
Time and attendance data is displayed on the schedule page.
The Time and Attendance is an active button which has multiple states and based on the colour of the button, will indicate if there is any data and if it requires action:
Disabled (greyed out) – No clock data
Amber – Some clock data requires action
Green – No action required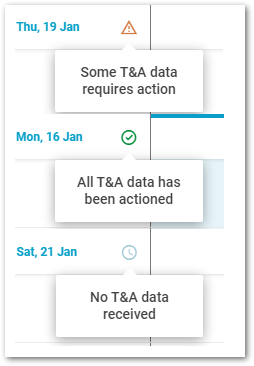 Fig.1 – Three states of the 'Review T&A' button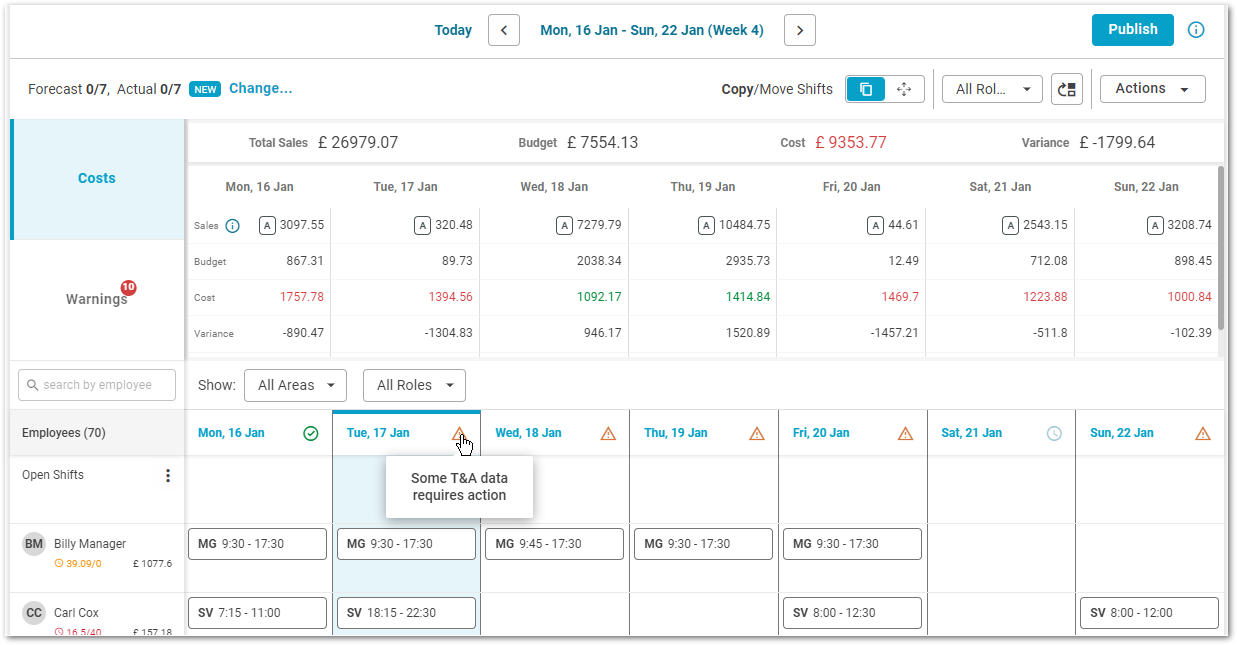 Fig.2 – Example amber Review T&A button
From the Schedule page, select Review T&A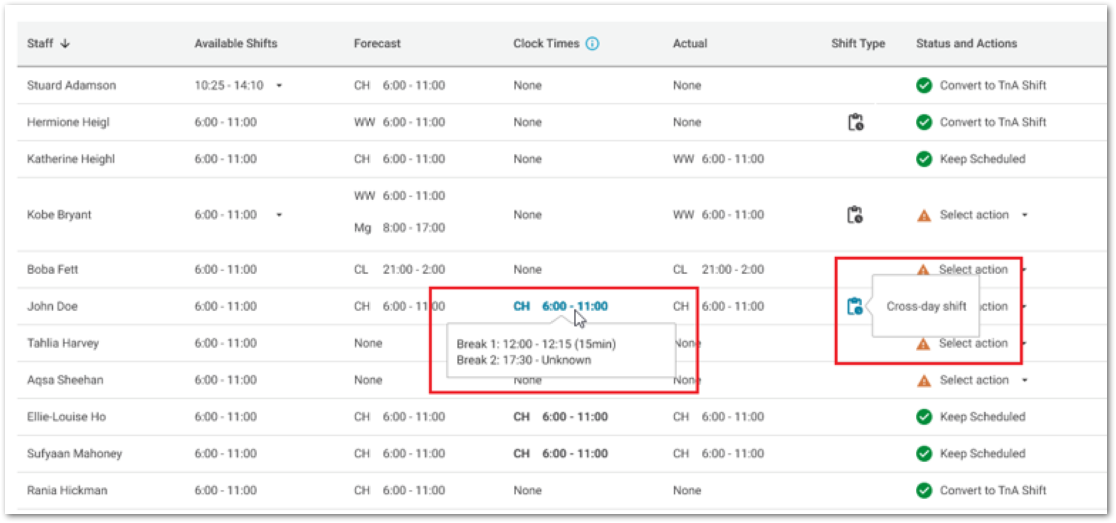 Fig.3 – Time & Attendance pop-up
The time and attendance pop-up will be displayed. The data shown is for the day which is currently being viewed:
Staff – Employee name
Forecast – Forecast shifts must be scheduled at least 1 day before that shift date. Any shifts created on that day or after are not considered forecast shifts
Clock Times – Time and attendance data for the employee - Click clock times to view break records.
Actual – Actual shift times for the employee
Shift Type – Icon indicating if the shift is cross business days
Actions - Confirm clock times – if there is a complete set of valid time and attendance data for the employee, confirm the clock times with the following options:
Confirm Clock Times – selecting this will trigger a 5-second countdown timer to "undo" the action (see Fig.4). If an error is made modifying the employee's shift time before the day is actualized, selecting Undo will re-open the T&A data
Keep Schedule Times- if there is partial data or no data then the employee's forecasted schedule times can be kept
Manually Enter Times – if there are invalid clock data shift times for the employee can be manually entered. A maximum of 2 shift records can be entered – see Fig.5. Shift notes and/or an additional shift can be added by selecting the relevant button
Ignore these shifts – if there are clock times but no forecast shift, the clock data can be ignored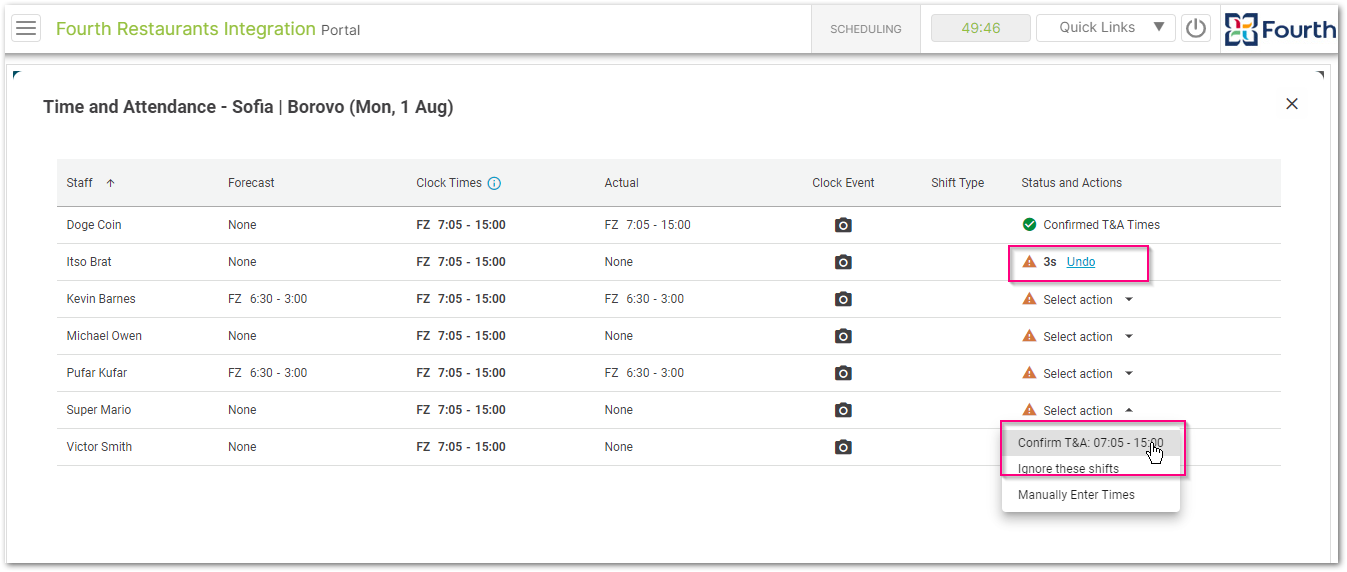 Fig.4 - Confirming Clock Times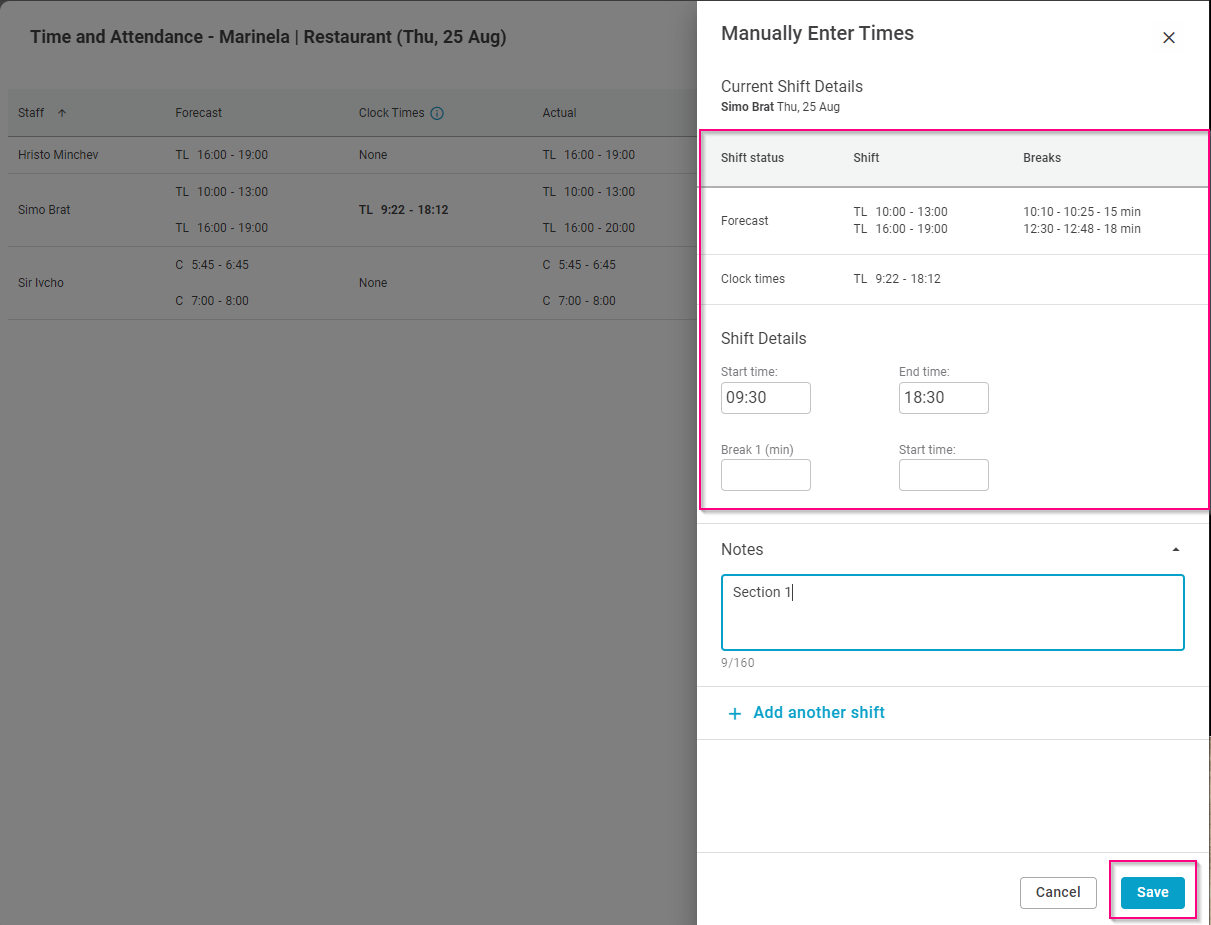 Fig.5 – Manually entering times
When all actions are complete, close the pop-up with the X in the top-right corner


Fig.6 – Closing T&A pop-up
The Review T&A button will then change to a 'Green' state.