Tasks Lists in the Logbook allow for your management team to track chores that need to happen on a consistent basis – from opening and closing procedures, to temperature checks and regular maintenance.
To create a new task list, log in to the Above Store Console, and click Task Lists in the Logbook tab (if you do not have ASC access, please reach out to your Corporate office).
To add a new task list, click Add. To modify an existing one, click its name in the list.

After naming the new task list, click Save. This will provide you with your first version. The different versions of a task list ensure that you retain all historical information as it was at that point in time. To create or adjust an unpublished version, click its name in the list.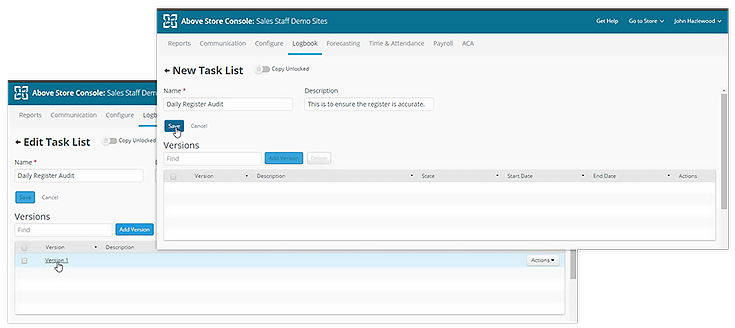 It is a good idea to add a description to each version to record what has been adjusted. Also, a start date for each version is required. A version will not be available until after this start date.

Creating your list is simply drag and drop. Drag controls from the right column to the canvas on the left. Start by defining the type of row with the controls above the white line. Then, drag defining controls onto the new row.

To adjust a control, simply click its cell. The column on the right will populate with the appropriate field. Make your changes there, and the adjustments will reflect in the canvas.
Please Note: Some tasks may allow you to require that a follow up automatically be applied if what is entered is outside the set parameters.

When finished, click Save at the bottom of the page. In the future, you are able to use existing versions as a starting place for revisions, or start completely new versions.

Scheduling and Assigning
The next steps are to set up a schedule for the task list, and assign it out to the specific locations.
To create a new schedule, click Add Schedule. To adjust an existing schedule, click its name. In the window that appears, define the schedule by naming and describing it, then setting the parameters for the schedule. Save when finished.

To assign the locations who should be using this task list, click Assign Stores. In the window that appears, check the boxes next to the appropriate stores. Click Assign when finished.

To unassign locations, check the boxes next to those locations, and click Unassign.

Setting Up Task Lists