In the Settings tab, you can adjust your experience within HotSchedules, as well as update your personal information used in HotSchedules.
In the Settings tab, under the Personal subtab, you can update your HotSchedules username, password, and security questions.   Note: Your Username and Password are specifically used for HotSchedules, and not necessarily the same as those used for other purposes in your store, like clocking in to your point of sale.  Click Reset Login and Security.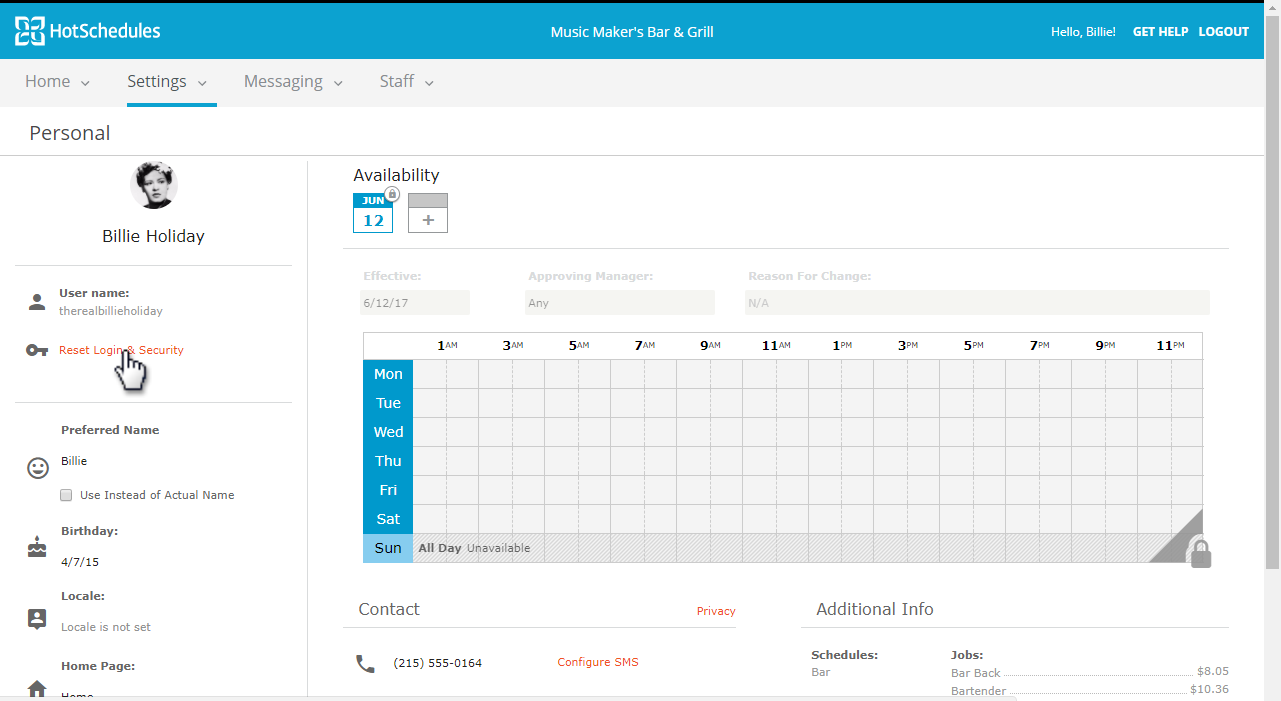 Under the Credentials sub-tab in the box that appears, you can change your username; as well as change your password by typing in your current password, and then your new password twice. Usernames must be unique throughout HotSchedules, so a warning may ask that you try again, if the username you chose is already in use elsewhere.  Under the Security Questions sub-tab, you are also able to change your security questions.   
When finished, click Save.

MyPass users will be able to access their account from here as well. you will click Manage MyPass Account and that will open a new page to edit your information.

You can also update your contact information - not only your name and address, but also your email address, phone number, and text messaging information. This can be important, because HotSchedules can use this information to communicate with you about your updated schedule, shift trade approvals, and the like. This information can be also hidden from other team members, if you so choose, by clicking Privacy, and checking the appropriate boxes.


Your phone number allows you access to the HotSchedules Automated Phone System, which is bilingual in both Spanish and English, and can be accessed 24 hours every day. Your ten-digit phone number is your login for the system.
The Automated Phone System:
Listen to your current schedule

Current schedule texted

Pick up and release shifts

Submit requests

Listen to and delete messages

Obtain co-worker contact information
Automated Phone Number – 866-753-3853
If you add your personal email account, HotSchedules will automatically email you your updated schedule, as well as any new messages waiting for you in your HotSchedules inbox.
You can also set up the option of having text message notifications sent to you - like whether or not to have your schedules texted, or receive notifications when your shift trades are approved.  
If you want to use the text message service, click Configure SMS. In the box that appears, opt in to the service by selecting Yes next to Configure Text Messages.  Enter your mobile phone number, and choose your home country.   After that, configure the service by checking the boxes next to any desired options in the three sub-tabs.  
When finished, agree to the terms and conditions, and click Save.

Settings Tab